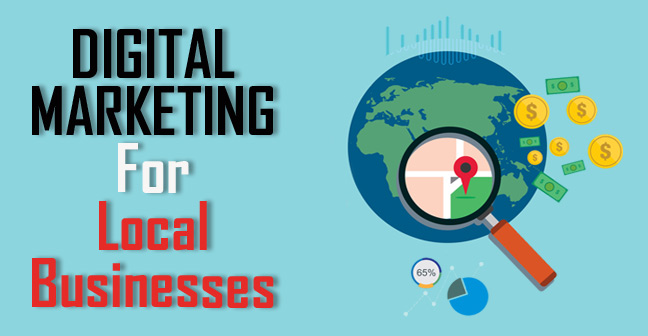 Claim Beneficial Online Listings or Social Profiles
For businesses who are just getting started online, First step is to claim different online listings and social media profiles across the internet that are beneficial for your business.

These listings and profiles may include Search Engine Listings (Google My Business & Bing Places) Social Media Business Profiles (Facebook & Instagram Business Pages)
Online Business Directories (Yelp, Justdial, Local Search)
By  claiming These listings and profiles you can build an online presence of your business and drive traffic to your website
Search Engine Listings, such as Google My Business and Bing are a major tool for assisting customers to find products and services they need.

For a local Business, your target market is using google to find out who is in their area.
Without claiming those search engine listings you won't show your services or products  when your potential customer goes to search for your products and/or services in your local area
Social media profiles are also very important, as they provide you a platform to generate awareness about your business and communicate directly to your customers.
 Run Locally Targeted Ads to Your Ideal Customers
Running locally targeted ads can be beneficial, because you can make them aware you exist, build trust with them, or send them to specific offers. 
All this depends on what platform you're using, as each platform has its own pros and cons, depending on what your goal is.
Google Ads is a great example of sending people to specific offers related to your business. From Google Ads you're appearing in front of people at Google who are already searching for related products or services to what you have. 
So they're already more qualified to buy from you, and will likely convert better because of this. 
Facebook Ads can be useful because it allows you to be visual, and this gives you the power to build your brand in front of your target audience. 
You can put creative visuals from which your ideal customers are more likely to stop while using social media to engage with what you're doing. 
Building a brand is easier because you have the visual elements that can get people to stop and listen to what you do.
Without going in-depth into online advertising, another very important thing for local businesses is retargeting.
Retargeting Helps to show ads to people who have already shown an interest or have engaged with your business before.
Retargeting is beneficial for local businesses because someone may visit your website, like your post on social media, or be on your email list – and you can target them.
Retargeting is beneficial for local businesses like yours because What this does is allowing you to target people who are already qualified to some degree. If someone has already visited your website and check your products, they may just forget about you… But if you then send them an ad the next day, after they have looked at your website, it keeps you at the top of their minds and increases the chance of a sale. 
This is why retargeting is very effective for your business.
Start a Blog & Use Local Keywords to Rank Higher
Websites are great platforms for local businesses, to help your customers find helpful information about your business 
You've heard about starting a blog for your business. However this strategy is beneficial for local businesses because it does a few key things.
Blogs are a form of content that you can use to draw in your target audience, by creating articles that would be helpful for those people. 
Another benefit of using a blog for your business is that it can help you improve your search engine ranking. 
We suggest you start by coming up with some ideas around what you can write about for your blog.
The best way is to think about what problems your ideal customers are facing and try to write blogs about ways to solve those problems. Think about, that is related to your business and industry.
For example, if you're an accountant you may write about ways that business owners can save at tax time, or answer frequently asked questions you get from clients.  
Another important thing is to make sure your blogs include relevant keywords to your area and line of work. 
Because when Google and other search engines scan your website, they'll see the relevant local keywords. That will help you rank higher for those terms when your customers go to search for them. 
Write your city name, the areas near your city or names of local famous palaces. Use keywords throughout your content is a quick way to include local keywords.
even you can use it to talk about your own business and who you help. For example, Fever19 is based in India and we help businesses across the world with social media and digital marketing.
Also consider where you are including keywords outside your content. Include keywords in your Page Title, Meta Description, and URL where possible.  
Share Blogs on social media would be useful because the people who follow you, through these channels, likely want to read the helpful articles you write. 
Giving Consistently great content to your audience to read it builds a stronger connection with those people.
Now if they're ever in the market to buy your products or services, you'll seem like the best option for them, because you have proven through your blog.
Create a Strategy to Acquire More Positive Reviews
In our busy lives, reviews and testimonials are beneficial because they allow us to quickly determine what's worth our time.
For example, if you run a local restaurant, there is likely to be a lot of other restaurants that you're competing with for business.
Now when a hungry person, who lives in your city, jumps online to find the best place to eat – Here is what happens.
They see your business, with let's say 47 positive reviews on Google. Compare this with your closest competitor who only has 10 positive reviews. Who would you pick?
It seems straight forward, but the majority of local businesses don't have a strategy for acquiring more positive reviews.
Most just wait passively for their customers to leave a review, or go above and beyond hoping it stands out enough that someone leaves a review.
This isn't worth it. Yes, you need to be delivering unbelievable customer experiences. However you also need to pair that with a proactive strategy, to follow up with customers, after these experiences.
The best way to do this is to send follow up emails or texts to your database. Or, if you work closely with your clients or customers, you can ask them in person.
Typically, you want this to be after they've purchased from you and had an experience with your staff or used your products